Posted:
April 19th, 2012 |
Author:
Erica Hagen
|
Filed under:
Nigeria
|
1 Comment »
GroundTruth is embarking on another iteration of – and new contextualization of – our mapping-reporting work here in Benin City, Nigeria. We arrived a week ago, and are beginning to make sense of the project and lay the groundwork for the pilot.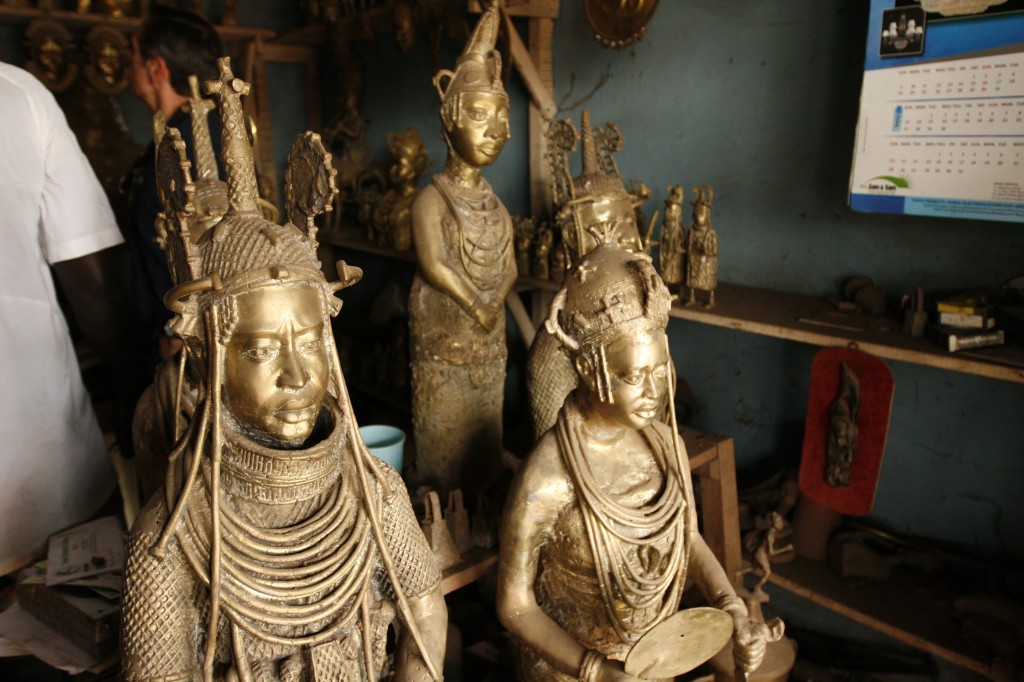 Benin City is the capital of Edo State – part of the Delta region technically, but without the "oil curse".
The Benin project is a partnership with the ICT Directorate of Edo State, supported by the World Bank. We are also fortunate to have on our team, Dr. Steven Livingston of George Washington University, in DC. Dr. Livingston is a professor at the School of Media and Public Affairs and researches ICT use in developing country contexts especially for political purposes; he has also recently been researching policing and security in Nigeria.
The current project has a few different goals, primary among them being the creation of a (geographically-situated) information channel or network between community members, government, and the wider public, with an initial focus on crime and security issues. The rooted nature of the project means that we will begin in a particular district or "local government area" known as Egor. During this trip, our main task has been to get to know the actors at the local level who might benefit from the project, and essentially map out the roles for various stakeholders, to use development lingo. We have met several local governance activists and civil society leaders, a community-based girls empowerment NGO, a professor of sociology at the local University, and a company responsible for kickstarting the government GIS department.
We also met the traditional leader of one community, known as the Enogie. This is a member of the historic Benin kingdom, which once posed fierce resistance to British rule and whose structures are still functioning and highly respected here.
We have gotten to know the ICT directorate staff, and it has occurred to me more than once that there are quite a few governmental or quasi-governmental (private sector or Bank-supported) staff putting a lot of energy into this pilot. This, it cannot be overstated, is not always the case; perhaps even unusual. It is highly motivating that we have such a commitment. Edo state also benefits from being known for its especially engaged and effective governor Adams Oshiomhole – at least, this is what we have been told by several people, from our taxi-driver to young government underlings to a variety of civil society leaders. I can't give evidence beyond that, but, well – the norm in Nigeria is pure kleptocracy. Some infrastructure is being built now in Benin including several roads, a new hospital, and public spaces. People are overjoyed.
The ministers overseeing some of these projects are also, well, serving the public and engaged. Some of the officials we've met have been recruited to come back home from overseas in hopes of making a difference. This is eye-opening, not only because of the reputation of Nigerian government at any level, but also to inform our overall work, since I have seen so little positive governance in Kenya. I hope that some outcomes will be achieved that show what can happen when government is connected with technology to the grassroots. I might be too optimistic, but it's a good note to start on. (Note to voting Kenyans: this governor was previously a labor leader and activist, ie, he had a record of taking a stand on issues publicly. Also, yes, his election came at a cost- he was first declared to have lost until public outcry overturned the decision.)
Of course, we'll be facing the usual challenges of electricity and connectivity, as well as transportation, but much more so than in Kenya or even Tanzania. While road repairs are coming in slowly, many spots become impassable when it rains. Nigeria's systems are notably unreliable, and the vaunted undersea broadband cable hasn't connected with Benin. But, again, "everyone's on Facebook" – the magic mobile connector. We'll be going back to mobile-phone based or WAP browser interface, with data management or long form submission a possibility at the higher levels.
An element of the project is to generate better information on crime and security, in juxtaposition to environmental and infrastructure mapping and community-determined priorities. This richer information will support the police (and others concerned with security) with the kind of analysis they don't currently have. The pilot concept was set off by the idea that urban upgrading coincides with crime reduction, and vice versa – a variation on the "broken windows" theory. The idea is that we'll actually see a trend relating infrastructure with crime rates. But is it really true that something referring to middle-class neighborhoods elsewhere could transfer here? Or as Dr. Livingston put it, the broken windows theory applies in places where windows are the norm. It will probably be less concrete than that. Again, I'm glad there are a lot of brains waiting to take on the incoming information – I often wish that there were more analysis of the rich information that can be found in Voice of Kibera.
It will be interesting to take the project into the community –always the part where theory fades and reality hits, and concepts and plans become tangible successes and failures. We've already taken a stab at this during our meeting with the Enogie and "youth" – where our request to meet 5 turned into a group of more than 50, excited and challenging us at the same time. Here's where I started to feel comfortable with the project, more familiar – where the purpose for me becomes clearer – where the excitement builds and people start to get curious and shape the direction of what has so far been conceived in rooms far away, by people who might never meet these soon-to-be reporters and mappers. Our ultimate responsibility is to these people, and the many others we'll meet, and I hope that leads as it has in the past, to something remarkable.
---