Msilikale and Equipment in Dar
Posted:
July 27th, 2012 |
Author:
mikel
|
Filed under:
tandale
,
Tanzania
|
Tags:
Tandale
|
Leave a comment »
When we returned to Dar es Salaam last month, we planned to assist a variety of partners to build a much larger and more sustainable program in the city based on the Tandale pilot. This continues, but may take some time to develop. So, at minimum we committed ourselves to put in place the means for the Tandale community to be able to continue to map and report. The key missing pieces were equipment, and someone to help out. The fine folks at MapBox lent a hand on the equipment side, with a small donation towards two sets of laptop-GPS-camera-modems for use in community work in Dar es Salaam. ASANTE!
Some snaps from Tandale of mappers getting to grips with their new equipment.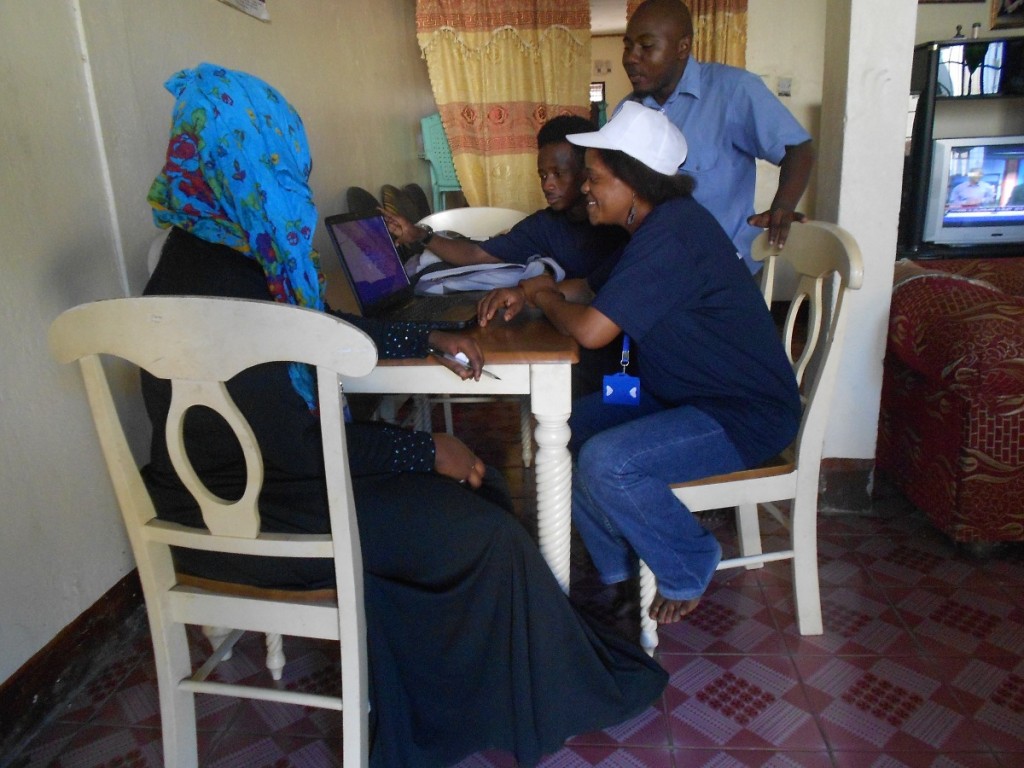 We were also able to bring on Msilikale Msilanga part time to help out with keeping things going in Tandale. We also loaned out some GPS devices to CCI for them to use as they continue to work on mapping with one of our previous trainees, Reginald, in Keko Machugwa.
Here's Msilikale in his own words….
Who am I?
I participated in the Tandale Project from Ardhi University, as a student during that time. I now have a Bachelor of Science in Urban and Regional Planning, with knowledge and experience of mapping using different software such as QGIS, MapInfo, etc, as well as knowledge of OpenStreetMap. I am now helping the Tandale community with reporting and mapping Tandale.
What I am doing in Tandale
The following are the activities that I am doing to help the community who are interested to do more mapping using OpenStreetMap and reporting using the blog and Ushahidi.
1. Â  Train the Tandale community every Sunday
This is one of the things I have decided to do because most of the community who participated in the project had the knowledge from the training in the project, but it has been a long time now and they don't remember how to use the equipments. So I am training them every Sunday when they are free.
2. Â  Helping the interested community when they fails
The Tandale community see me as part of their family, so whenever they fail in anything especially mapping and reporting, they can contact me at any time and I help them through the mobile phone especially when they want to use the equipments and they don't know how to go about it.
3. Â  To connect the Tandale community with Ground Truth (GT) and Centre for Community Initiatives (CCI)
Because I can also communicate with Ground Truth and CCI now, I am acting like a bridge to bring the community feedback, and if there is a problem I am the one to report to either CCI or Ground Truth.
4. Â  To take care of the equipments
If one of the equipments has a problem the community reports to me. If the problems are from technical (the computer is not working for example) I can solve that problem, but if I fail to solve the problem I contact Ground Truth or CCI for help.
5. Â  Encourage the community in what they are doing
This is to help them to do more mapping and reporting and reminding them the importance of doing it.
6.   Find the way to make these reports to be heard by responsible people
This can be the government, or  NGO or CBO, that can help in any way with the problems raised by the Tandale community; even facilitating meetings with the bloggers so that to make Tandale voice to reach far and get help.
---